TWP Stain Reviews, Articles, How-To Tips
View Previous TWP Restoration Contests
---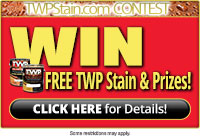 The TWP 2020 Spring/Summer Restoration Contest is closed!
Thanks to all the entries this year. Excellent job to all and we appreciate you entering our TWP staining contest for 2021!
We will contact the winners via their orders.
First Place
Ray (Page 2)
First Place = $500 + 5 Gallon Pail of TWP Stain
Second Place
Bob Hanes (Page 2)
Second Place = $350 + 3 Gallons of TWP Stain
Third Place
Dino Bortolotto (Page 1)
Third Place = $200 + 2 Gallons of TWP Stain
Sorry for all that did not win the prizes. We were extremely impressed with all the feedback and entries this year!
---
The TWP 2021 Contest Details
All TWP and Prep products must be purchased first from this online retail site (TWPStain.com) between January 1st - Sept 6th, 2021.
The deadline for entry is Sept. 19th, 2021.
The winner will be decided by Sept. 30th by our team.
Contestant winners will receive
First Place = $500 + 5 Gallon Pail of TWP Stain of your choice!
Second Place = $350 + 3 Gallons of TWP Stain of your choice!
Third Place = $200 + 2 Gallons of TWP Stain of your choice!
How To Enter Contest
Enter by Sept. 19th, 2021.
In the comment section below, post a short description of your deck/wood staining project, the products used to prep, and the TWP Series and Color used. Examples of wood projects that can be entered: Decks, Fences, Wood Side Homes, Log Cabins, etc.
Add 2 before prepping pictures of the wood that was restored (no more/less). You can still enter if you do not have the before pictures. Decks, wood fences, wood homes, etc are allowed.
2 after staining pictures must be included (no more/less).
If having trouble uploading the pictures, please make your picture(s) size smaller (below 1 MB).
Any questions or issues posting, please ask in the comment area.
We look forward to all entries and wish everyone "Happy TWP Staining"!
*Disclaimer: All products must be purchased from TWPStain.com. The contest is not open to products purchased from other online dealers or from physical retail stores.
TWP and Two-Toned Decks
There are several advantages to having a TWP Wood Stain two-toned deck. Being able to match or blend the deck in better with the house with a TWP Semi-Solid Pro-Series in one of the 30 Custom Colors and using one of the TWP semi-transparent colors for the flooring or horizontal areas that keeps those areas more natural with a stain that shows all the wood grain.
When TWP Semi-Solid Colors are applied properly on vertical surfaces they are extremely durable and can last a long time. On a vertical surface, semi-solid stains can last up to 4-7 years and may only need to be cleaned occasionally. A properly done two-tone deck can really add appeal and value to your property. It may take a little more time and labor initially but as some deck owners know, the end result can be amazing.
For a Semi-Solid Stain on the verticals/railings, we suggest the TWP Semi-Solid Pro-Series. For a semi-transparent stain for the flooring/horizontals look at using the TWP 100 Series or the TWP 1500 Series.
Advantages of having a TWP Stain two-toned deck
The ability to color match the railings and vertical wood to blend with the color of the house by using TWP Semi-Solid Pro-Series.
The deck floor/horizontal wood is stained with TWP in a semi-transparent stain so it still has that natural wood appearance.
TWP Semi-Solid Pro-Series stains on vertical wood/railings can last 2-3 times longer on vertical surfaces or up to 7 years with little to no maintenance.
Future coatings typically consist of cleaning and reapplying a semi-transparent stain to the horizontal floors every 2-3 years.
Visually a beautiful two-color look to your exterior wood deck.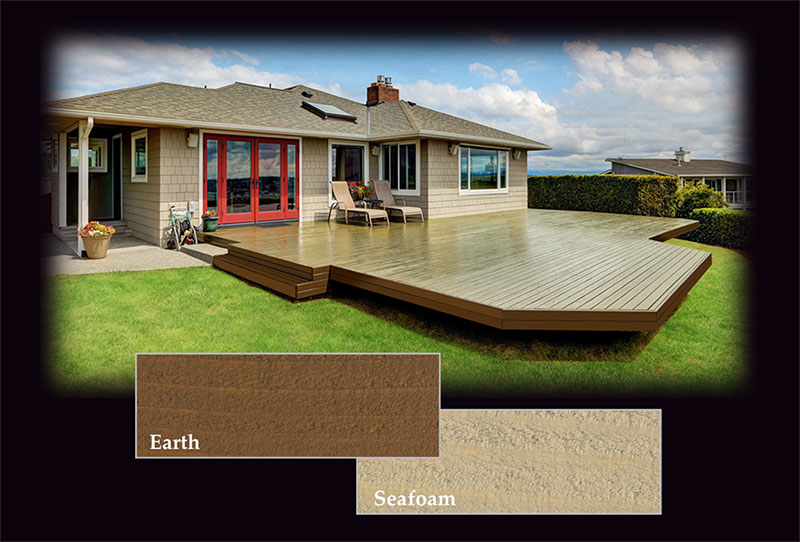 Welcome to TWPStain.com
TWP is one of the top-rated semi-transparent stains on the market today. The TWP 1500 is the only exterior wood and decking stain that is EPA approved as a wood preservative. Use TWP 100 Series, TWP 1500 Series, and the TWP 200 Series and you are using the highest grade oil-based stains available for the 2020 season! If you have any questions on TWP, see our Q&A section below each product or visit
TWPStainHelp.com
.
We are now shipping
TWP 200 Series
in 1- Gallon and 5-gallon Pails to Canada!
We are pleased to announce a brand new label for the TWP 100 Series! The TWP 100 Series will now be called the TWP 100 Pro Series! We have had some questions as to if there a difference between the two series besides a label change.
See here for More Info: TWP 100 Series Label Change
TWPstain.com is an Official Online Distributor of TWP® Products
The Staff ~ TWPStain.com