TWPStain.com - The Official Distributor of TWP and Gemini Products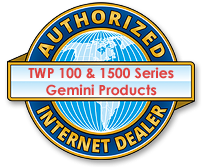 Ground Delivery Schedule is as Follows*:
1-3 Business Days for Central Midwest States
2-3 Business Days for East Coast and Southern States
3-5 Business Days for West Coast
*We ship direct to all 48 States via Fedex or UPS Ground with all products in stock for immediate shipment. Fedex offers Saturday Delivery. TWP Stains must ship Ground and cannot ship faster due to National DOT laws.
Professional Wood and Deck Cleaners for all types of exterior wood.
Deck Cleaners - Professional Grade