TWP 100 Series Stain and Gemini Restore A Deck Kit Combo Pack
This combo Kit comes with both 5 Gallons of TWP 100 Series and the Gemini Deck Cleaner and Brightener Kit for prepping your wood.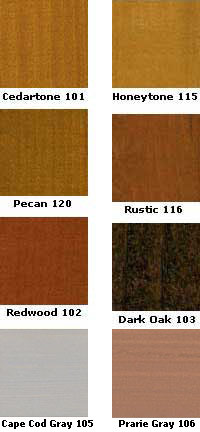 1 Gemini Restore A Deck Kit
Restore-A-Deck Cleaner and Brightener system is a powerful "eco-friendly" two-part restoration system.
Step 1 Wood and Deck Cleaner that deeply cleans your wood to remove to remove dirt, grime, mold, algae and general graying. The cleaner will help prep neglected wood and or prep for re-coating with a wood or deck stain.
Step 2 Wood Brightener is used after the wood cleaner to "brighten" the wood while neutralizing the cleaner to a natural pH balance. This step will improve the overall appearance of your wood while helping the wood deck stain longevity.
The kit covers 750-1000 sq feet when mixed.
1 TWP 100 Series 5 Gallon Pail

TWP 100 Series is an EPA registered wood and deck stain and preservative. Containing unique ingredients which protect wood from damage, TWP 100 series has been a leader and respected product for over 25 years.
Penetrating and enhances natural wood tones in 6 different colors
Preserves wood from turning gray
Sheds water
Used for all types of exterior natural wood - Decking, Wood Houses, Wood Fencing, Hardwoods, etc
Not prone to Mildew and Mold
Please Note:
TWP 100 Series is not compliant in all states. Please read this for additional information: VOC States.

TWP 1500 series can be shipped to all 50 states.
*We do not guarantee stain colors as they will vary widely depending on the wood type, age, of wood, prepping of wood, and application. Small samples are available.
*TWP 105 Cape Cod Gray and 106 Prairie Gray are close to semi-solid in appearance.
Have Questions on Prep and Application?
Visit our Help Site for all the answers!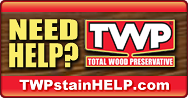 | | |
| --- | --- |
| Gallon Sizes: | 1's & 5's |
| Stain Type: | Semi-Transparent Oil-Based |
| Coverage Per Gallon: | 100-200 square feet |
| Coats Required: | 2 Coats. "Wet on Wet" |
| Temperature: | 45-95 F |
| Application Tools: | Pad, Sprayer, Brush, Roller |
| Dry Time: | 4-24 Hours |
| Cleanup: | Mineral Spirits |
| State VOC Limits: | Not Compliant in all States |
| More Info: | Product Data |