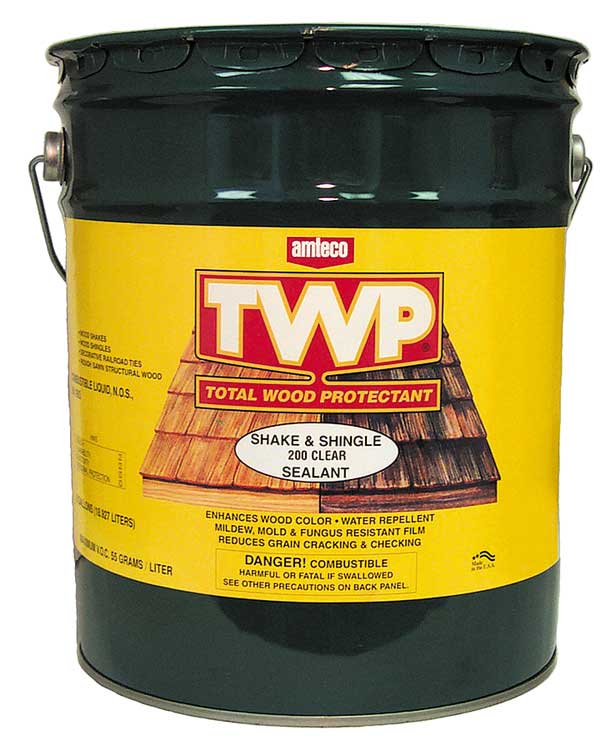 Not all wood stains and sealers, especially oil based formulas, are compliant in Canada. Canada has Volatile Organic Compound (VOC) concentration limits in place to protect the environment and the health of Canadians. However, there are some quality oil based wood stains that are compliant with these strict laws. One such product is TWP 200 Series.
Total Wood Preservative (TWP) 200 is an oil based stain that protects against structural damage and wood rot for above ground exterior wood surfaces. The great news about TWP now being sold into Canada is that it is a low VOC preservative with unique UV shielding pigments that reduces wood fading, discoloring and graying. TWP uses select mildewcides that naturally inhibit the growth of fungal molds and mildews.
TWP also resists water and moisture absorption that can lead to freeze damage in colder climates like Canada. Freeze damage is responsible for board warping, splitting, cracking and structural harm. TWP 200 is user-friendly and easy to apply and maintain down the road. It will not chip, flake or peel like film forming types of wood stains. It dives deep into the wood pores to resist water and reflect harmful UV rays. This semi-transparent wood stain formula preserves wood and enhances the wood grain's natural beauty.
Canadians can buy TWP 200 Series 5 Gallon Pails with confidence knowing that this low 250 VOC formula will enhance and protect wood surfaces in harsh weather. This is a great way to protect your investment as opposed to using a lesser quality or non-compliant stain. TWP is the professional's choice for all exterior wood surfaces such as fencing, wood siding, decking, roofing and log homes. TWP 200 is now being sold into Canada and will standup to hard winters, foot traffic and summer heat like no other VOC compliant oil based stain on the market.