TWP 200 Series 5 Gallon

AVAILABLE TWP 200 SERIES COLORS: 200 CLEAR, 201 CEDARTONE, 202 REDWOOD, 203 CEDAR GOLD, 205 CALIFORNIA CEDAR, 206 RUSSET, 207 BUTTERNUT BROWN, 210 SLATE GRAY CHOOSE TWP 200 STAIN COLOR IN DROPDOWN BELOW!
TWP 200 Series is now available to be shipped to Canada!
The TWP 200 Series was designed for shakes and shingles but can be used for all exterior wood surfaces such as fencing, log homes, cedar framed homes, etc.
TWP 200 Series is a semi-transparent oil based penetrating finish designed to extend the life of exterior wood such as cedar shake siding, and shingles. Containing a paraffin oil, TWP 200 series penetrates wood extremely well. The Paraffin oil is a "non-drying" oil that enhances the wood cells structural stability. This greatly improves the woods life and appearance.
TWP 200 Series primary function is to enhance the structural integrity and appearance of aged roofing. The finish composition will minimize grain cracking, cupping, surface erosion, water absorption and surface attack from mildew and algae. Although the system is highly penetrative, the residual surface film is highly resistant to destructive organisms. The penetrative portion of the product absorbs into aged and porous wood, adding bulk to aged and brittle wood fiber. This restores lubricity and flexibility to brittle shingles. At 94%+ solids, these products comply with all current federal and state VOC (volatile organic compounds) regulations.
TWP 200 SERIES will not crack, peel or blister making maintenance an easy task to perform for extended wood protection.
Compliant in all States
Sheds and Repels Water
Prolongs UV Fading
8 Colors. Can take up to 30 days to cure to final color.
Material Preparation:
Due to different substrates, wood density, sanding, wiping and application methods, and atmospheric conditions, ALWAYS check actual stain color for accuracy before finish work process begins. We are not responsible for color variances following application of the product.
**TWP® 200 Clear allows wood to gray naturally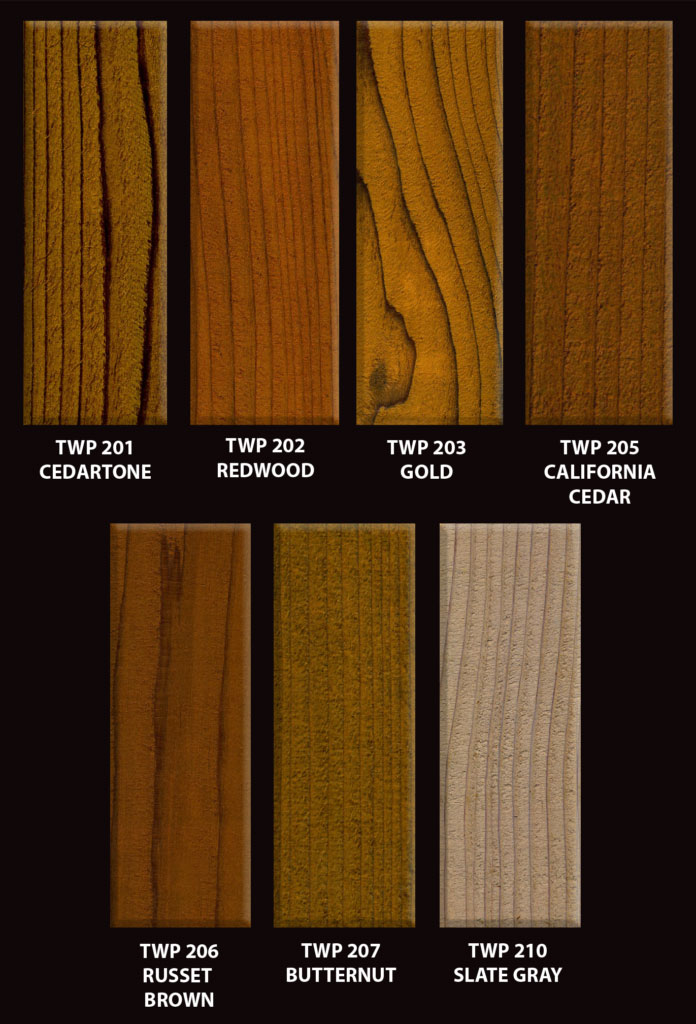 | | |
| --- | --- |
| Gallon Sizes: | 5 Gallons |
| Coverage Per Gallon: | 150-250 square feet |
| Coats Required: | 1 Coat |
| Temperature: | 45-95 F |
| Application Tools: | Pad, Sprayer, Brush, Roller |
| Dry Time: | 48-96 Hours. |
| Cleanup: | Mineral Spirits |
| State VOC Limits: | Compliant in all States |
| More Info: | Product Data |
Reviews
Saturday, 06 August 2022
The surface Prep Instructions of new Cedar Shakes calls for water wetting of the shakes 2 times, waiting at least 48 hours after each wetting step. This is to open wood grain and remove tannins from surface. Won't the wood grain close back up after the drying period is over? TWP200 is the product. thanks
Monday, 15 March 2021
Worked great!
Thursday, 19 October 2017
Best coating on the market for shake and shingle cedar roofs.
More reviews
Please log in to write a review. Log in
Loading comment...
The comment will be refreshed after

00:00

.
We will reply to your comment shortly

We will reply to your comment shortly

I am in California and have been told i can use the 200 series. Can it Be used on tongue and groove cedar siding? If so can I get samples of the 201 and the 203?

We will reply to your comment shortly

We will reply to your comment shortly

I have a house with Cedar shakes. The roof is approximately 8 years old. The area of the roof is approximately 1100 square feet. How much of the clear TWP 200 should I order? The roof is clean and hasn't been treated before. I live in Upstate New York and have snowy winters. Should I use Storm Shield instead?

We will reply to your comment shortly

Use the TWP 200 Series for cedar shakes. You will need about 10 gallons for this.

We will reply to your comment shortly

Looking for sun protection on vertical deck support columns (only). They are whole rough-peeled logs, PT, installed in 2000 on the central Oregon coast (direct ocean exposure). The PT is the older green variety, which had minimal penetration. Columns have been treated once with a brown Behr product made for PT wood. They came out a dark brown but are now fading. I have not seen the Behr product on the market for some time. Finish texture is not a concern. 1) Can one of your products be applied directly to our columns? 2) what is the drying time for your products?

We will reply to your comment shortly

We will reply to your comment shortly

Pressure wash the PT first, then stain. I used this on my PT deck last year, it looks great and really seems to shed water. I'll post some pictures in the morning. Also used on my new cedar shingle roof, they look brand new after the first winter. Very happy with TWP!

We will reply to your comment shortly

We will reply to your comment shortly

We're in 100 Mile House in BC, Canada. Cold winters and hot summers. We have a large deck (pressure treated wood) and a 1000 sq ft western red cedar panabode cabin. The old stain needs to be removed from the cabin, I'm assuming cleaned with your brightener and then would the TWP 200 series be the best option for the deck and cabin logs? If we went with clear, I understand that higher tint means better UV protection, if we're fine with the greying though that takes place will the clear still provide protection from the elements like the others (other than the fact that it will grey), 207 butternut brown would be our other choice.

We will reply to your comment shortly

We will reply to your comment shortly

When I say clean I should've clarified that I meant I was gonna sand the whole of the exterior down. In that case if it's all removed would I just use the brightener prior to the stain? After a few years can I just redo the stain or must I strip everything again and redo it?

We will reply to your comment shortly

If you remove all the stain by sanding then yes, brighen all wood after. Clean and brighten when time to redo.

We will reply to your comment shortly

We will reply to your comment shortly

This says for vertical surfaces, just confirming it can be used for horizontal decking with foot traffic in Canada with extreme weather and is UV stable even with the clear?
Or is another product ideal for this application in this part of Canada.

We will reply to your comment shortly

Yes, you can use it on a deck in Canada. This is the correct product for Canada. Note, it can take 1-2 weeks for the final color to set when using the 200 Series.

We will reply to your comment shortly

We will reply to your comment shortly

We will reply to your comment shortly

Is this the best option of your products for a log home in central NY? Needs to prevent water and wood boring insects. Thanks

We will reply to your comment shortly

We will reply to your comment shortly

We will reply to your comment shortly

We will reply to your comment shortly

Is there a big difference between cedar gold and california cedar. The house exterior is cedar and the deck is sienna pressure treated.

We will reply to your comment shortly

Please add products to the cart and enter your shipping info there. It will update with the total cost.

We will reply to your comment shortly

We will reply to your comment shortly

We will reply to your comment shortly

Will this work for pine siding for a lakeside cabin in northern Ontario?
It may be newly milled wood so what moisture level must the wood be and how does one check for that? Also can this be sprayed on or is it best brushed? Thank you

We will reply to your comment shortly

We will reply to your comment shortly

After reading the prep instructions unfortunately the siding cannot wait 4-12 mths to be dry enough to stain. It needs to be protected for the winter. Do you have a stain can be used in Canada on 'new' wood shortly after installing?

We will reply to your comment shortly

It does not need to be protected through the first Winter. Prep and staining in the Spring is perfectly fine.

We will reply to your comment shortly

Hi,

12 yr old deck with several coats 1520 (Pecan) over the years. I live in Canada so plan to switch to the 200 series. No stain has been applied over the last 3yrs so the old 1520 is about 1/2 peeled off. Couple questions: 1. Do I need to use a stripper/brightener? If so which do you suggest? 2. What color in the 200 is the closest to 1520 Pecan?

We will reply to your comment shortly

We will reply to your comment shortly

appreciate the prompt reply! Just want to confirm the color suggestion. When comparing the color pallets on the website the Butternut 207 looks a lot darker than the Pecan 1520. Our deck is cedar but we chose the pecan as we didn't like the reddish color some Cedar colored stains produce.

We will reply to your comment shortly

It is darker but it is also the closest to Pecan. The next closest will be Cedartone 201.

We will reply to your comment shortly

I have a cedar sided house and live in Indiana. I have used the 1500 series before, but wondering if the 200 series would be better. The 1500 series is ok, but loved the when I was able to use the 100 series.

We will reply to your comment shortly

The 1500 would be your best option unless your siding is rough cut or shakes/shingles. You would want the 200 Series then.

We will reply to your comment shortly

The surface Prep Instructions of new Cedar Shakes calls for water wetting of the shakes 2 times, waiting at least 48 hours after each wetting step. This is to open wood grain and remove tannins from surface. 1. Won't the wood grain close back up after the drying period is over?
2. If I am using a stain to prevent the wood from graying, do I want to wait the 4 - 12 months before applying the stain? The shakes are at least 4 months old, but never exposed to direct sunlight. I an not understanding how and when to TWP200 product. thanks

We will reply to your comment shortly

Would you ever consider a 50 50 mixture of TWP200 clear and some other TWP2XX stain? What would that look like?

We will reply to your comment shortly

You can mix any colors you like of the 200 Series. No way to know for certain what it would look like on your wood until you try samples.

We will reply to your comment shortly

I have new cedar shakes that I want to retain the natural color they now have. Not installed yet. Is TWP200 CLEAR the best? Not sure how to best apply this to the shakes.

We will reply to your comment shortly

For UV protection from graying, the stain must be tinted, not clear. any color that you like will work.

We will reply to your comment shortly

Sorry, I just noticed it is

We will reply to your comment shortly

Is this product available in 1 gallon cans?

We will reply to your comment shortly