TWP 100 Series Stain and Restore A Deck Stripper and Brightener Combo Pack
This combo Kit comes 5 Gallons of TWP 100 Series, 1 Restore A Deck Stain Stripper and 1 Restore A Deck Wood Brightener for prepping by removing previous coatings from your wood.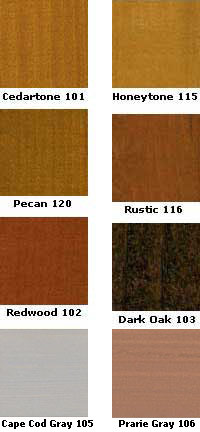 1 RAD Stripper and 1 RAD Brightener
Restore-A-Deck Stripper and Remover is the first and only powdered concentrated deck stain stripper that is designed to be injected through a pressure washer. RAD Stain Stripper can be applied with a pump up sprayer as well.
The Restore-A-Deck stripper when injected will remove penetrating transparent and semi-transparent wood decking stain and coatings. Covers 150-200 sq. feet per gallon when injected through a pressure washer.
When applied through a pump sprayer, the RAD stripper is twice as strong and can remove most transparent, semi-transparent, and semi-solid deck stains. Great for removing failed semi-transparent acrylic stains! Covers 100-200 sq. feet when applied with a pump sprayer.
The Restore-A-Deck Stain Stripper needs to be neutralized and this combo kit comes with the Restore-a-Deck Wood Brightener.
Removes:
Transparent and Semi-Transparent Oil-Based Stains
Most Semi-Transparent Water-Based Stains
Water Sealers
* The Restore a Deck Stain Stripper will not remove a Solid Color Deck Stain or Deck Paint that is not transparent.
1 TWP 100 Series 5 Gallon Pail

TWP 100 Series is an EPA registered wood and deck stain and preservative. Containing unique ingredients which protect wood from damage, TWP 100 series has been a leader and respected product for over 25 years.
Penetrating and enhances natural wood tones in 6 different colors
Preserves wood from turning gray
Sheds water
Used for all types of exterior natural wood - Decking, Wood Houses, Wood Fencing, Hardwoods, etc
Not prone to Mildew and Mold
Please Note:
TWP 100 Series is not compliant in all states. Please read this for additional information: VOC States.

TWP 1500 series can be shipped to all 50 states.
*We do not guarantee stain colors as they will vary widely depending on the wood type, age, of wood, prepping of wood, and application. Small samples are available.
*TWP 105 Cape Cod Gray and 106 Prairie Gray are close to semi-solid in appearance.
Have Questions on Prep and Application?
Visit our Help Site for all the answers!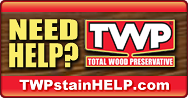 | | |
| --- | --- |
| Gallon Sizes: | 1's & 5's |
| Stain Type: | Semi-Transparent Oil-Based |
| Coverage Per Gallon: | 100-200 square feet |
| Coats Required: | 2 Coats. "Wet on Wet" |
| Temperature: | 45-95 F |
| Application Tools: | Pad, Sprayer, Brush, Roller |
| Dry Time: | 4-24 Hours |
| Cleanup: | Mineral Spirits |
| State VOC Limits: | Not Compliant in all States |
| More Info: | Product Data |