TWP 200 Series 5 Gallon

AVAILABLE TWP 200 SERIES COLORS: 200 CLEAR, 201 CEDARTONE, 202 REDWOOD, 203 CEDAR GOLD, 205 CALIFORNIA CEDAR, 206 RUSSET, 207 BUTTERNUT BROWN, 210 SLATE GRAY CHOOSE TWP 200 STAIN COLOR IN DROPDOWN BELOW!
TWP 200 Series is now available to be shipped to Canada!
The TWP 200 Series was designed for shakes and shingles but can be used for all exterior wood surfaces such as fencing, log homes, cedar framed homes, etc.
TWP 200 Series is a semi-transparent oil based penetrating finish designed to extend the life of exterior wood such as cedar shake siding, and shingles. Containing a paraffin oil, TWP 200 series penetrates wood extremely well. The Paraffin oil is a "non-drying" oil that enhances the wood cells structural stability. This greatly improves the woods life and appearance.
TWP 200 Series primary function is to enhance the structural integrity and appearance of aged roofing. The finish composition will minimize grain cracking, cupping, surface erosion, water absorption and surface attack from mildew and algae. Although the system is highly penetrative, the residual surface film is highly resistant to destructive organisms. The penetrative portion of the product absorbs into aged and porous wood, adding bulk to aged and brittle wood fiber. This restores lubricity and flexibility to brittle shingles. At 94%+ solids, these products comply with all current federal and state VOC (volatile organic compounds) regulations.
TWP 200 SERIES will not crack, peel or blister making maintenance an easy task to perform for extended wood protection.
Compliant in all States
Sheds and Repels Water
Prolongs UV Fading
8 Colors. Can take up to 30 days to cure to final color.
Material Preparation:
Due to different substrates, wood density, sanding, wiping and application methods, and atmospheric conditions, ALWAYS check actual stain color for accuracy before finish work process begins. We are not responsible for color variances following application of the product.
**TWP® 200 Clear allows wood to gray naturally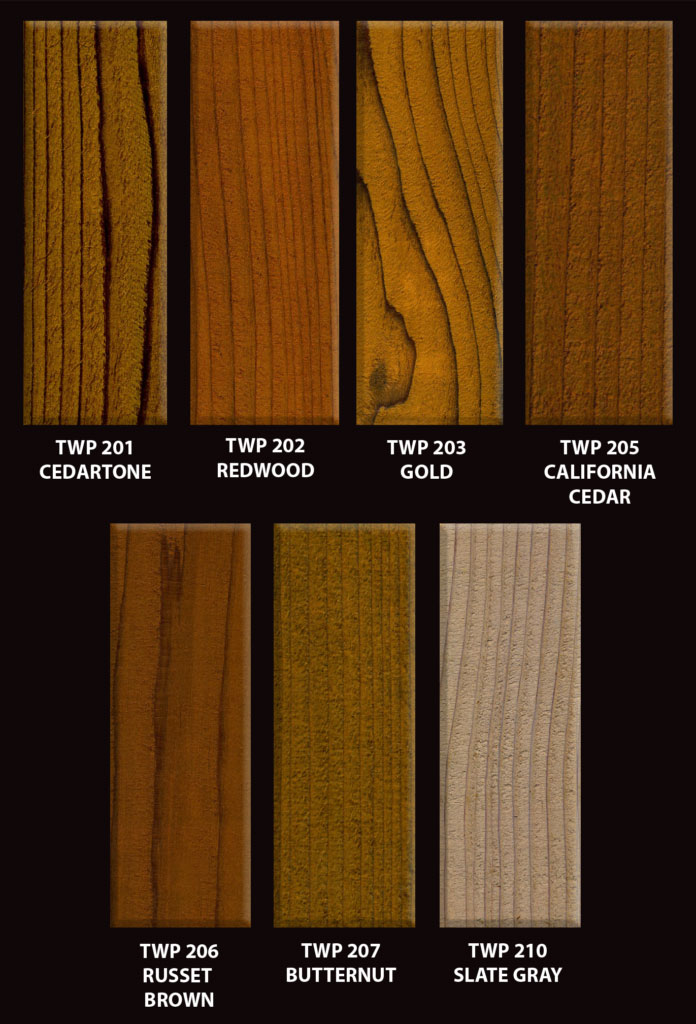 | | |
| --- | --- |
| Gallon Sizes: | 5 Gallons |
| Coverage Per Gallon: | 150-250 square feet |
| Coats Required: | 1 Coat |
| Temperature: | 45-95 F |
| Application Tools: | Pad, Sprayer, Brush, Roller |
| Dry Time: | 48-96 Hours. |
| Cleanup: | Mineral Spirits |
| State VOC Limits: | Compliant in all States |
| More Info: | Product Data |
Reviews
Saturday, 06 August 2022
The surface Prep Instructions of new Cedar Shakes calls for water wetting of the shakes 2 times, waiting at least 48 hours after each wetting step. This is to open wood grain and remove tannins from surface. Won't the wood grain close back up after the drying period is over? TWP200 is the product. thanks
Monday, 15 March 2021
Worked great!
Thursday, 19 October 2017
Best coating on the market for shake and shingle cedar roofs.
More reviews
Please log in to write a review. Log in
Loading comment...
The comment will be refreshed after

00:00

.
We will reply to your comment shortly

Do you have a gray house stain for voc compliant state?

We will reply to your comment shortly

It would be better to use the 1500 or 100 series since they actually cure/dry.

We will reply to your comment shortly

I have a deck finished with the #207 butternut and would like to finish a porch swing in the same color. My concern is possible staining clothes as the info mentions it is made with \"non drying\" oils. Is this product suitable for a porch swing or should I use something else?

We will reply to your comment shortly

I would use 1 part bleach to 5 parts water. Apply to deck and rinse after 5-10 minutes. If it is mold it will go away. If it does not then it could be rust specks. These look like black dots as well. You would need a wood brightener to fix this.

We will reply to your comment shortly

So, what procedure would you suggest? Spray watered down solution of bleach, then leave it on or wash it off? How long should i leave it on? I read online that steam would be great to kill the spores also, as 140 kills all mold, would you suggest that?

We will reply to your comment shortly

Most likely the mold was there in the wood prior. I would try a water downed bleach solution to kill the mold spores.

We will reply to your comment shortly

Used TWP 200 on my new deck boards in Georgia. Decking was pressure treated boards from Home Depot. USed TWP 200 since that what was recommended by a Decking company. Well two weeks after the application I am seeing dark spots on the boards, looking like mold. Now what do I do??:\'(

We will reply to your comment shortly

You cannot apply TWP on top of a solid stain.

We will reply to your comment shortly

I am redoing my wooden deck and I need to know which TWP stain would be best. It has solid acrylic stain on it now.

We will reply to your comment shortly

If you are looking for a rich dark brown color then I would suggest the TWP 1500 Series in the Dark Oak.

We will reply to your comment shortly

Looking to strip off the above and replace with something close is color. We really liked the Jarrah Brown and looked great when we put it one. It did not hold up well. We\'re thinking rustic or dark oak. Your opinion?

We will reply to your comment shortly

I would look at the Rustic Brown in the TWP 1500 Series

We will reply to your comment shortly

Have a house full of cedar windows and doors that have been stained twice in the past with 206 Russet Brown. Need to be redone soon. Do not see this color listed. What is close?

Thanks,
Don

We will reply to your comment shortly

The 200 Series is for shakes and shingles not new wood. Definitely the 1500 Series.

We will reply to your comment shortly

We are preparing to build a new deck and screened porch using DuraPine by Cox Wood -a yellow pine wood that is pressure treated with CA and the decking will be DuraPine Classic which is treated with the CA and then kiln dried. We live in Atlanta, Ga and would like to know whether to use the 1500 series or 200 series.

We will reply to your comment shortly

1500 Series would be ideal for your scenario. Offers excellent UV protection and does not darken in color like other stains. It will fade lightly through the years.

We will reply to your comment shortly

Which is better? Live in high desert southwest, dryness and UV is extreme; moisture/mold/damp rot is not a problem. Will be removing failed Penofin and re-staining log home. Outbuildings are wood slab siding. The home and outbuildings are 6 years old but the weathering is pretty significant. BTW, are you aware of any problem with TWP finishes turning black over time-- that\'s what happened with the Penofin?