TWP 100 Series Deck Stain - The Best Deck Stain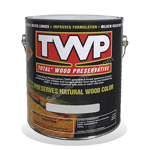 Need Help or Advice when using TWP 100 Stain?
TWP 100 Series Total Wood Protectant (TWP) Wood Deck Stain protects and prolongs all exterior woods, decks, and fences. TWP Wood Deck Stains and Sealers is a distinctive mixture of chemicals blended together to form a professional strength formula that preserves exterior wood surfaces in numerous ways.
TWP 100 Series Stain will perform at its maximum potential when the wood is properly prepped and when the stain is properly applied. Unfortunately not all wood is in the same condition prior to applying the stain.
Order Now: TWP 100 Series
Do you have any questions about using the TWP 100 Wood and Deck Stain?
Please answer these few questions to achieve the best possible results with your TWP 100 Wood and Decking Stain.
Age of wood?
Type of wood?
Condition of the wood?
Has it been stained previously and if so with what brand of stain?
Small description of the area to be treated.
Ask Questions in Comment Area Below