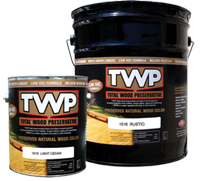 TWP 1500 Stain Reviews and Ratings for Consumers who have used the stain.
Please Post a Review Below!
The latest TWP formula is the new 1500 Series. It is now entering it's 4th year and has had some amazing results!
TWP 1500 Series Preservative is an EPA approved wood enhancing preservative that stops structural damage and exterior wood rot on treated or previously treated above ground wood surfaces such as fencing, decking, roof shakes, wood siding and log homes.